BlueLabel – providing real-estate risks induced by climate change
Client

BlueLabel

Partners

Royal Haskoning DHV, Achmea and Nelen & Schuurmans

Year

2019

Location

Netherlands
BlueLabel is an information service that makes the effects of pluvial and fluvial floods, drought and heat tangible for buildings in the Netherlands.
BlueLabel is used by governments to monitor climate adaptation policies. Real-estate companies and housing corporations use BlueLabel to quantify climate related risks of their portfolio. Citizens use BlueLabel to inform themselves on the risks of climate change for their own house.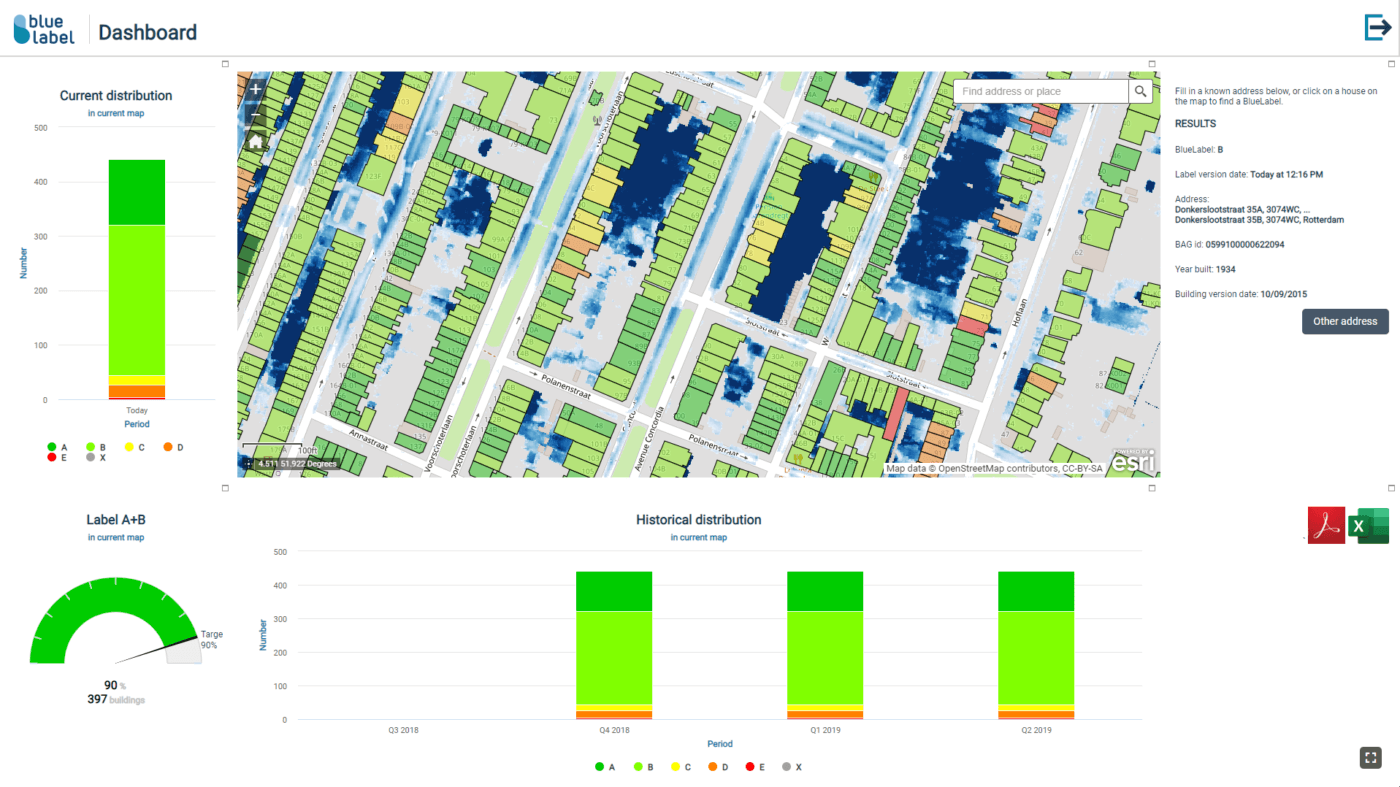 How BlueLabel uses Lizard 
BlueLabel uses Lizard as a back-end solution for their information service. Lizard frequently collects and stores the temporal data from the Governmental Registration for addresses and buildings, geospatial raster data on pluvial and fluvial floods, drought and heat in the Raster and Vector Server.
The GeoBlocks geospatial toolbox and Labels data-model are used by geo data scientists to compute the effects of pluvial and fluvial floods, drought and heat for more than whopping 6 million buildings. The analysis translates the effects into an index or label ranging from A (no risks) to E (very high risks) for each building.
Each quarter new Labels are derived with an automated API request that kicks of the analysis. The Labels are stored over time in the Vector Server to help governments, companies and citizens monitor the effect of policies and measures in the physical environment.
For governments, real-estate companies and housing corporations, BlueLabel developed a web-app using ESRI Web Appbuilder. The app is used to monitor the effects of policies and measures over time. Lizard fuels the app with maps, labeled buildings and statistics. For instance the Lizard API is used to compute a distribution of labels within the administrative boundaries of a municipality.
Citizens can request the labels for their own house via the BlueLabel website that queries the labels in Lizard in the background.
Contact me for a product demonstration or training